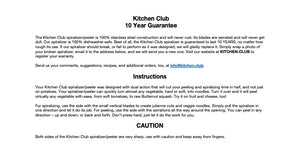 Warranty Registration - FREE!
Regular price
$0.00
$0.00
The Kitchen Club Peeler/Spiralizer and Veggie
Shears
both come with 10 year warranties that are simple to use. If your tool every breaks or you have some sort of other problem, simply take a picture of your tool on top of the box it game in or the warranty card (so we can see it is one of ours), explain your issue, and we'll send you a new tool. All you need to do use register it on the form on this page.